Tours Morocco Imperial Cities 8 days and 7 nights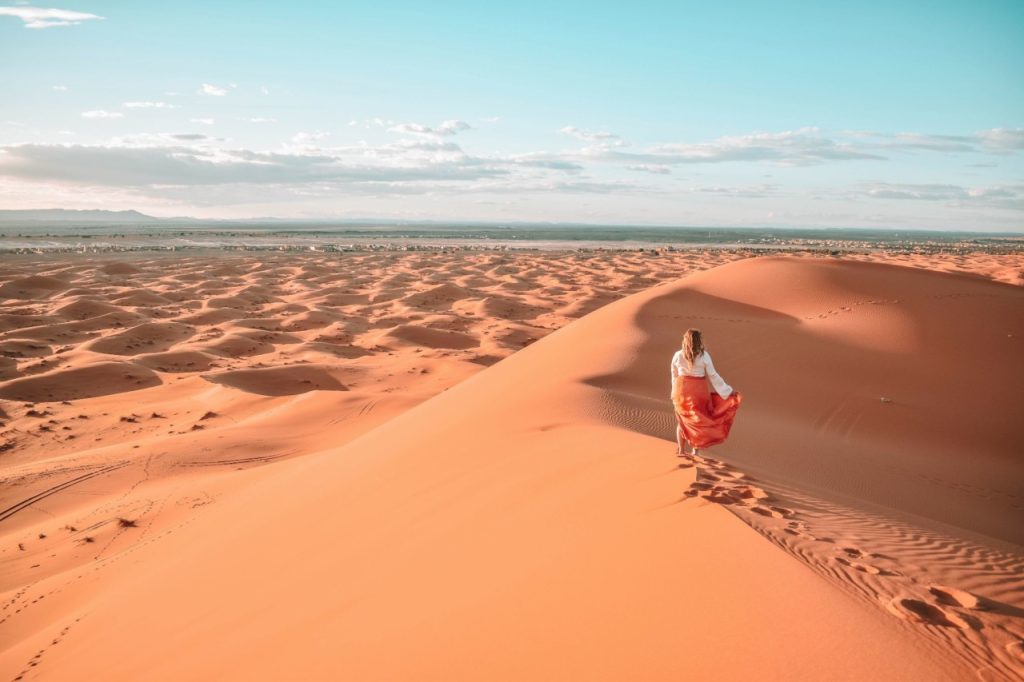 Tours Morocco Imperial Cities 8 days and 7 nights
Day 1: Casablanca – Rabat – Meknes
Pick up at your arrival or at your hotel in Casablanca. We'll visit Hassan II mosque, which is the only mosque which is available to non-Muslim visitors, and the reference point in Casablanca. Hassan II Mosque was built by King Hassan II (1987-1993) and constitutes the first introduction to Arabian influences in Morocco. More than 25,000 worshippers can pray inside and 80,000 outside, in its great square. We'll head off to Rabat to have a look at some historic places such as the charming Chellah, where we'll appreciate an amazing mixture of Roman and Marinid influences. We'll visit the unfinished Hassan Mosque Tower and Mohamed V mausoleum. We leave Rabat towards the next city, Meknes. It was built by the Sultan Moulay Ismael in the XVIII century, and it's famous for its beautiful gates, mosques and madrassahs. Overnight in Meknes.
Day 3: Meknes – Volubilis – Fez
Next morning, after a tasty breakfast, we'll begin our visit to Meknes in the Sahrij Swani barn, which was used to store food and water for the "Black Army" of the Sultan Moulay Ismael. We'll have the chance to visit his mausoleum and admire its Arabian-Andalusian style. We'll have a look at the huge Bab Mansour Gate. Just 30 km away from Meknes we'll find Volubilis, a UNESCO (1997) recognised Roman archaeological site, quite well preserved, with amazing remains of mosaics, hundreds of Latin inscriptions and artistic materials. That's the end of the day. Overnight in Fez in Hotel or Riad.
Day 3: Fez City – Visit with Local Guide
After having breakfast, we'll meet our Fez local guide; we'll explore the ancient Fez medieval Medina, the first imperial city, a genuine maze of over 9,000 passageways which deserves to be the intellectual and cultural capital of the kingdom. We'll wander around its streets and among the variety of items, colours and donkeys carrying goods. You'll see lots of handmade items, since Fez is in the lead in traditional craftwork and still using the same materials. Its famous local meat curers are one of the appeals of the visit; we'll see them working in small ditches on the skins of goats, camels and cows. You'll have also the chance to taste some of the most special dishes of Fez gastronomy. Besides, you'll be delighted by a panoramic view from the southern tower and will pay visit to the pottery cooperative where floor tiles and Arabian mosaics are made. Or you may prefer attending a dinner entertaining show with belly dancing to finish your tour. Overnight in Fez in Hotel or Riad.
Day 4: Fez – Ilfran – Azrou – Midelt – Erg Chebbi Merzouga
We'll leave medieval Fez towards another place in Morocco through the Middle Atlas Mountains. We'll make a short stopover to rest at Ifran or the small Switzerland, where the first ski station of Morocco is located. We'll be surrounded by stunning views and landscapes of mountains and grasslands. We'll meet a species of native monkeys which live in the Cèdre Gouraud Forest, more than 30 members of a family of the so-called Barbary macaque, in Azrou.  We'll have lunch in Midelt, where an apple festival is annually celebrated. There is a big contrast in the landscapes, especially when crossing the Ziz valley towards Arfoud, the gateway to the Sahara. We'll arrive at Merzouga to set off on a camel tour group to get into the core of the dunes and gaze at an unforgettable sunset. We'll ride to the campsite, where we'll lodge in Haimas (tents made up of dromedary hair) equal to those used by the nomads in the desert. Dinner and overnight in the core of the desert beneath a stunning canopy of stars.
Day 5: Erg Chebbi Merzouga – Dades Gorges – Ouarzazate
After having breakfast, we'll leave the Sahara towards the ancient subterranean irrigation system, which is still used in the oasis of Eljerf to avoid the evaporation of water to the possible extent. Along the way to Tinjidad, we'll stop to have lunch in Todra Valley, considered one of the oldest valleys of Morocco. It's a 15 km long beautiful valley of date palms which ends up in astounding gorges, where picnics and rock climbing are usual activities for local people in the summer. We'll get into Dades Valley to admire its amazing geologic formation, which is consequence of the erosion over millions of years. We'll go on to the Valley of the Roses, the only place in Morocco where the Damask Rose is grown, from which some products such as rose oil and water are removed to be used as wrinkle-preventing and skin treatment. Overnight in Ouarzazate in Hotel or Riad.
Day 6: Ouarzazate – Ait Ben Haddou – Telouet – Marrakech
Next morning we'll have two places to visit in this cinematographic city: Taourirte Kasbah, which is a real image of the Berber architecture made of clay and straw; and the cinematographic studio. At our arrival at the small village of Ait Ben Haddou we'll go for a walk around the ancient town in which quite a few films such as "Laurence from Arabia", "Jesus of Nazareth" and "Gladiator" have been shot—and still counting. Since 1987, it is recognised by UNESCO as a World Heritage as well as National Heritage Site. Following, we'll head off to the great Telouet Kasbah, a fortress built by the lord of the Atlas, Thami el Glaoui, where business was done in caravans. We'll head off to the north of the High Atlas Mountains across the 2,260 m high Tizi-n-Tichka, an impressive road through red mountains and Berber towns until Marrakech. Overnight in Hotel or Riad.
Day 7: Marrakech city- Local Guide visit
We'll pay a visit to the city of Marrakech with a local guide. We'll go to Bahia Palace, built by the Great Vizier Bahmad of Marrakech and decorated with amazing mosaics and stucco, and we'll listen to some interesting stories about his 4 wives and his 24 concubines. We'll see the extraordinary architecture of the Saadian Tombs, which was the XVII royal necropolis. You'll spend some time enjoying the famous bazaars of Marrakech; the wide range of scents, colours and items of the great bazaar will captivate you. The Majorelle Garden is a quiet place in the new part of the city which contains a botanical garden with native and exotic plants coming from all over the world, and a predominance of indigo blue colour on the walls. We'll end up in Jamaa El Fna Square, a place full of life and where we'll find snake charmers, monkeys, food stalls and musicians; it's the liveliest square in Marrakech.
Day 8: Marrakech – Casablanca
Once you are ready, transfer to the airport of Marrakech or Casablanca. End of our trip to the imperial cities 8 days in Morocco.
Private vehicle a/c, 4×4 Toyota Land Cruiser Prado or luxurious van for 8 days + Fuel.
Spanish speaking guide driver.
Pick up and transfer to the airport of Marrakech or Casablanca.
Rooms with bathroom – a/c in customary hotel/Kasbah/Riad with breakfast and dinner (vegetarians are welcome.)
Overnight in the dunes of Erg Chebbi Merzouga, tent in nomad campsite with dinner and breakfast.
Camel round trip from campsite (which is about 1 hour for each way.)
Spare time to explore places such as Ait Ben Haddou, film sets, Taourirt Kasbah, etc.
Tips
Flights
Drinks
Lunch meals
Admission to monuments
Several choices of lodging categories to your election according to your needs.
Wide range of hotels.
Riads of 3* and 4*.
Hostels and Bivouacs.
The price of the route varies depending on the number of travelers and the category of the chosen accommodations.
Send us an email indicating your trip chosen dates, number of people and the selected lodging category. We will provide you with your custom made-route in demand.