Imperial Cities of Morocco 7days and 6 nights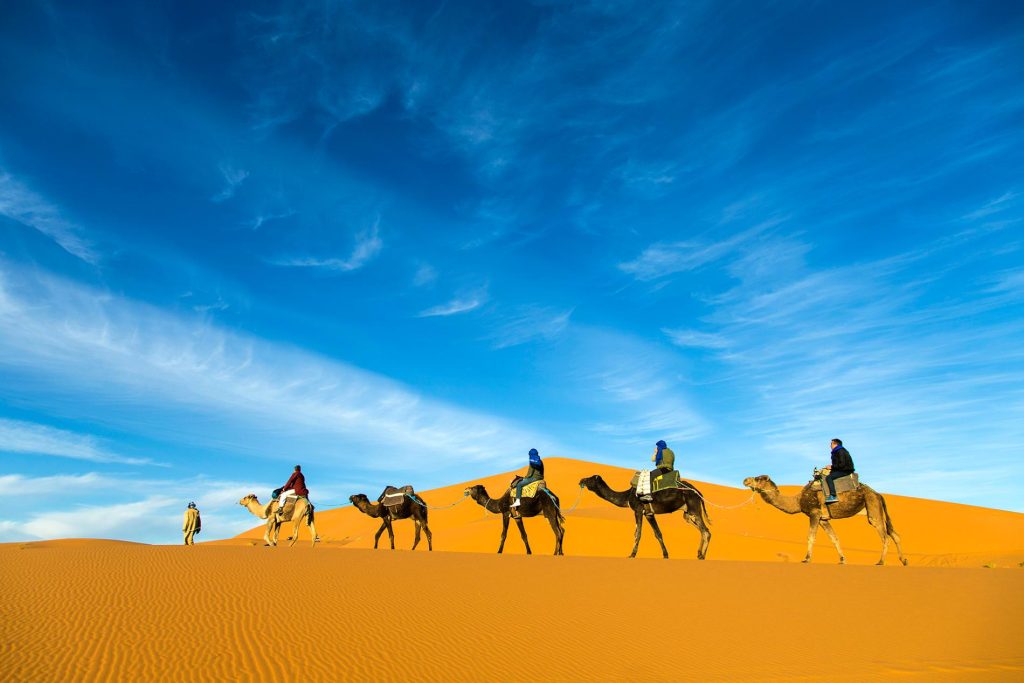 7 Days Imperial Cities Of Morocco Tours
Day 1: Marrakech
We'll be waiting for you at the airport of Marrakech. Transfer to your hotel. We'll pay a visit to the city of Marrakech with a local guide. We'll go to Bahia Palace, built by the Great Vizier Bahmad of Marrakech and decorated with amazing mosaics and stucco, and we'll listen to some interesting stories about his 4 wives and his 24 concubines. We'll see the extraordinary architecture of the Saadian Tombs, which was the XVII royal necropolis. You'll spend some time enjoying the famous bazaars of Marrakech; the wide range of scents, colours and items of the great bazaar will captivate you. The Majorelle Garden is a quiet place in the new part of the city which contains a botanical garden with native and exotic plants coming from all over the world, and a predominance of indigo blue colour on the walls. We'll end up in Jamaa El Fna Square, a place full of life and where we'll find snake charmers, monkeys, food stalls and musicians; it's the liveliest square in Marrakech.
Day 2: Marrakech – Casablanca – Rabat
We'll go to Casablanca, the largest city in Morocco, which is always tied to the film Casablanca (1942) and which features a modern architecture of Art Deco style of French influence with white buildings. There it is placed the great Hassan II mosque, the reference point of Casablanca, which is the only mosque which is available to non-Muslim visitors. Hassan II Mosque was built by King Hassan II (1987-1993) and displays strong Arabian influences. More than 25,000 worshippers can pray inside and 80,000 outside, in its great square. Lunch near the beach. We'll go to the capital of Morocco, Rabat. Overnight in Rabat in Hotel or Riad.
Day 3: Rabat – Meknes Volubilis – Fez
This morning, we'll explore Rabat taking a look at the lovely Chellah Merinid and the Roman site, with its beautiful Octogonal defensive gate. The unfinished Hassan Mosque Tower of XII century and Mohamed V mausoleum. We'll walk through the Kasbah Oudaya, a XII century white and blue splendid building with a view over the beach and river Bouragrage. We'll head off to the other imperial city, Meknes, with a 40 km long wall stretched over the Medina and its huge Bab Mansour Gate (1732), the Sahrij Swani barn, which is a grain-store and water tank, and is used as a barn and a stable for 12,000 horses. Just 30 km away from Meknes we'll find Volubilis, a UNESCO (1997) recognised Roman archaeological site, quite well preserved, with amazing remains of mosaics, hundreds of Latin inscriptions and artistic materials. After our pleasant stroll around Volubilis, we'll go on towards Fez.  Overnight in Fez in Hotel or Riad.
Day 4: Exploring Fez
After having breakfast, we'll meet our Fez local guide; we'll explore the ancient Fez medieval Medina, the first imperial city, a genuine maze of over 9,000 passageways which deserves to be the intellectual and cultural capital of the kingdom. We'll wander around its streets and among the variety of items, colours and donkeys carrying goods. You'll see lots of handmade items, since Fez is in the lead in traditional craftwork and still using the same materials. Its famous local meat curers are one of the appeals of the visit; we'll see them working in small ditches on the skins of goats, camels and cows. You'll have also the chance to taste some of the most special dishes of Fez gastronomy. Besides, you'll be delighted by a panoramic view from the southern tower and will pay visit to the pottery cooperative where floor tiles and Arabian mosaics are made. Or you may prefer attending a dinner entertaining show with belly dancing to finish your tour. Overnight in Fez in Hotel or Riad.
Day 5: Fez – Beni Mellal – Marrakech
We'll leave Fez towards the Middle Atlas Mountains. We'll make a short stopover to rest at Ifran or the small Switzerland, where the first ski station of Morocco is located. We'll be surrounded by stunning landscapes, mountains and grasslands. Once in Beni-Mellal we'll have lunch before a pleasant journey to Marrakech. It's time for a shower and get ready for the last night in the red city.
Day 6: Essaouira
A trip that will lead you to visit a lovely city of Morocco. It's just 170 km away from Marrakech. A city on the Atlantic coastal line, along which the Argan Forest (Goat Trees) is stretched. In the province of Essaouira we'll visit one of the women cooperatives where the extract "Moroccan Oil": Argan, well known due to its cosmetic benefits. You'll have the chance to explore its small XVIII century Medina and go for a pleasant walk around the beach, if you wish. The seagulls' birdsongs will replace the urban sounds of Marrakech and its major level of stress. There, some different arts such as painting and sculpture are displayed.
Day 7: Marrakech – Airport
Once you are ready, transfer from Marrakech to the airport of Casablanca. End of our trip to the imperial cities.
Private vehicle a/c, 4×4 Toyota Land Cruiser Prado or luxurious van for 7 days + Fuel.
Experienced Driver.
Pick up and transfer to the airport of Marrakech or Casablanca.
Rooms with bathroom – a/c in customary hotel/Kasbah/Riad with breakfast and dinner (vegetarians are welcome.)
Tips
Flights
Drinks
Lunch meals
Admission to monuments
Several choices of lodging categories to your election according to your needs.
Wide range of hotels.
Riads of 3* and 4*.
Hostels and Bivouacs.
The price of the route varies depending on the number of travelers and the category of the chosen accommodations.
Send us an email indicating your trip chosen dates, number of people and the selected lodging category. We will provide you with your custom made-route in demand.